Kosovo on Monday observed a day of mourning for the Kosovar Albanian police officer killed by Serb gunmen in the north of the country, in one of the worst confrontations since it declared independence from Serbia in 2008.
About 30 masked men in combat uniforms opened fire on a police patrol near the village of Banjska in the early hours of Sunday, killing one officer and injuring another.
They then fled to a nearby Serbian Orthodox monastery, breaking down the gates with an armoured personnel carrier before barricading themselves in with priests and visiting pilgrims.
The stand-off ended when most of the attackers escaped on foot under cover of darkness on Sunday. Three of the gunmen were shot and killed by police.
The clash raised tensions at a time when Serbia and Kosovo have been seeking to normalise ties.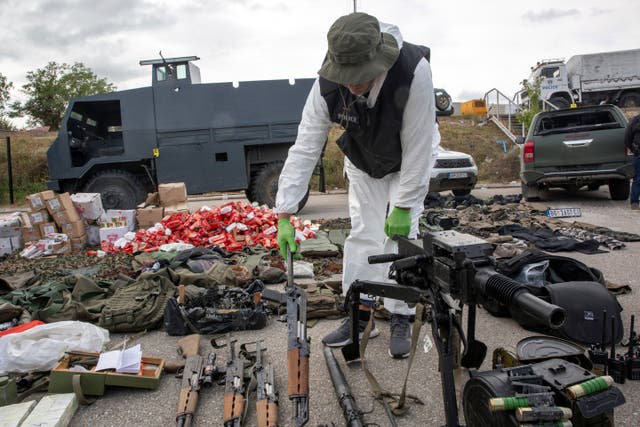 In February the wartime foes agreed a 10-point plan intended to bring them closer to EU membership, but implementation has faltered.
Flags were at half-mast on all public buildings in the capital Pristina on Monday to mourn the dead officer, Afrim Bunjaku.
In northern Kosovo, where most of the ethnic Serb minority lives in four municipalities around Mitrovica, police searched for the gunmen who had escaped.
It is not clear who the attackers are, nor who is supporting them.
Pristina accuses Belgrade of backing the "terrorists", an accusation Serbia denies, saying they are Serbs from Kosovo protesting against the government there.
Three of the attackers were killed and two injured in the shoot-out as the stand-off ended. Another Kosovar police officer was injured in the confrontation.
Two of the gunmen and four Serbs discovered nearby with communication equipment were arrested and are under investigation for terrorist acts.
Police showed journalists the arsenal of weaponry they had seized at the monastery, including 24 vehicles and an armoured personal carrier, weapons, mines and grenades, missile launchers and a lot of ammunition.
Kosovo's interior minister Xhelal Svecla called on Serbia to hand over six injured gunmen who are being treated at a hospital in Novi Pazar, the closest city across the border.
The minister said they had identified at least five of the attackers as members of the ethnic Serb Civil Protection organisation, one of two groups which Pristina has declared illegal.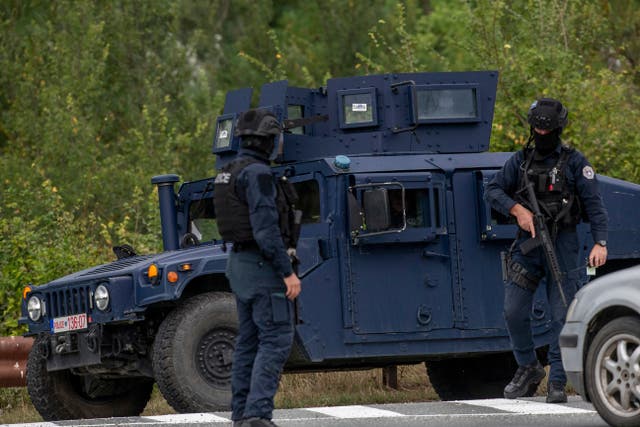 Based on evidence, the minister said it was very possible that Milan Radoicic, a leader of the Srpska List party and closely associated with Serbia's president, was part of the group. Mr Radoicic is banned from entering the US and the UK.
"It's a terrorist, criminal, professional unit that had planned and prepared what they did and who are not a smuggling band but a mercenary structure which is politically, financially and logistically supported by official Belgrade," said prime minister Kosovo mourns a slain police officer, some Serb gunmen remain at large after a siege at a monastery
Serbian President Aleksandar Vucic said the gunmen were local Kosovo Serbs "who no longer want to stand Kurti's terror".
He condemned the killing of the Kosovo policeman, but said the clash was the result of "brutal" pressure on Kosovo Serbs by the government there. He denied any involvement by Belgrade.
Mr Vucic also blasted the West and its "hypocrisy" over Kosovo.
"You can kill us all. Serbia will never recognise the independence of Kosovo, that monster creation that you made by bombing Serbia," Mr Vucic said, referring to the 1999 Nato intervention which led to Kosovo separating from Serbia.
Serbia and Kosovo, its former province, have been at odds for decades. Their 1998-99 war left more than 10,000 people dead, mostly Kosovo Albanians. Kosovo unilaterally declared independence in 2008 but Belgrade has refused to recognise the move.